Loosely based on the 2007 CGI film, that was related to the 2003 animated series. This particular version differs from the others.
Game Boy Advance (2007)
1 player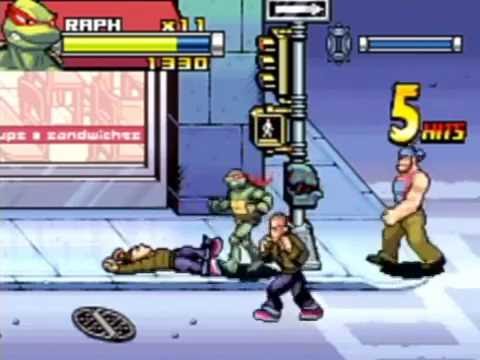 controls
B - attack/pick up(including fallen enemies)/throw/use weapon
Down & B - low attack
Up & B - high attack
Away & B - reverse attack
A - jump
A, B - jump attack/throw away melee weapon
A & B - special (no health drain)
Healing items are just walked over. This one's pretty challenging, with some fairly lengthy stages, so if the L & R buttons are unlocked later in the story or something, I didn't have the patience to wait and see. You can only play as Raph in the beginning, so I don't know if moves are different for the others, but the low attack for him was a mid-range kick, for example, which isn't low in the sense of a foot sweep(which is what his special is) or just a crouching kick(this one being a multi-plane type, there's no crouching anyway).