Based on the movie with the same exact title.
Game Boy Advance & DS (2005)
Allows for multiplayer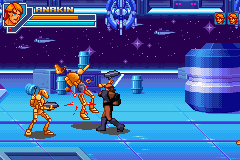 Characters: Anakin Skywalker, & Obi-Wan Kenobi
https://www.gamefaqs.com/gba/925150-star-wars-episode-iii-revenge-of-the-sith/faqs/36856
https://www.gamefaqs.com/ds/925149-star-wars-episode-iii-revenge-of-the-sith/faqs/37108
Going over the GBA version, the game also goes over the basics in the first stage, except for the jump attack, and that there are variations of the basic attack depending on which direction you're holding as you press B, as well as the usual double tap running. If you choose a new Force power and don't know how to do it, it's explained in the pause menu(basically, R & a direction, B, or A, depending on the power). Certain parts of the background can be destroyed to find items, which are picked up by walking over them. The action can get pretty touch with enemies on both sides of your character firing lasers, so take advantage of both the guard(which can deflect the lasers back at them when timed right), and the ability to walk up and down the planes.
Micro_Chip has pointed out that the DS versions has some quick person spaceship battles to break up some stages. It's guide also goes over the new moves brought about by having more buttons to utilize, so it's not just the same exact game on better hardware.