Oriental Legend/Xi You Shi E Zhuan (1997)
Oriental Legend Special/Xi You Shi E Zhuan Super (1998)
Oriental Legend Special Plus/Xi You Shi E Zhuan Super Plus (2004)
Oriental Legend 2 (2007)
Arcade
1-4 players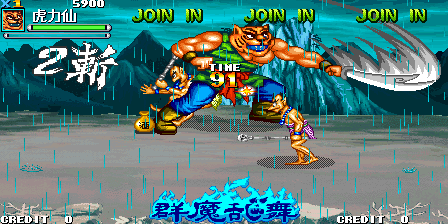 (^Special Plus)
Controls:
button 1 - attack/pick up items
button 2 - jump
2, 1 - jump kick
Forward & 2, 1/2, Down & 1 - dive kick(there's a certain timing to it that I can't pull off every time)
1 & 2 - desperation
button 3 - select special items (when you have more than 1, use the joystick to select and then either button 1 or 3 to confirm selection.)
button 4 - use special item(if used to confirm selection, the item will be used immediately)
double tap Left/Right - run
run, 1 - running strike
walk into enemy - grab
grab, 1 - throw(can be directed with directions, Up will toss them overhead and behind, and Down will slam them into the ground, whereas Left/Right is the regular throw toward that direction)
Special items can range from bombs to boomerangs to screen clearing magic. Weapons can be knocked out of your hands, at which point you can either pick them back up and proceed, or use your firsts, which changes your desperation attack. There are paths in some stages that you can choose, or sometimes the flooring will break and you'll be sent to another area if you didn't cross before it happened. Something to note is that you have to press the Start button twice, even when continuing.
The setting is, as the title suggests, based on Oriental Legends. the first games has 5 playable characters, and I think 2 or 3 are from the Chinese story "Journey to the East." I know Ba-Chien, the pig with the pitchfork is, as well as the monkey king, Wu-Kong(which is what Goku from Dragon Ball is loosely based on. Monkey with an extending staff that rides a cloud). I think Long-Ma, the man with the spear, may be as well. The other playable characters are a woman with a dagger, named Long-Nui, and a man with a staff, or spear, that has a crescent blade at one end, and an axe-like blade at the other, named Wu-Ching.
Special seems to be a remake, or sequel, that mostly plays the same, but now there's a temporary meter under the health bar, then when filled(when a character first starts out, and through some item pick ups) there is now a quarter circle projectile move(Down, Down/Forward, Forward & 1) until it starts to deplete. There also seems to be more special items a character can use, and some desperation moves seem to be different(Wu-Kongs unarmed one specifically). The locations are different as well.
Special Plus has 6 more characters to choose from, 5 of which are HUGE(4 being anthromorphic animals). Other than that, it seems to be the same exact game as Special, based on the locations. The character names are in Oriental writing this time though.
To explain, though listed as "Not Working" some games will still run in M.A.M.E. I'm not sure if they can be completed as they are, but you can get a feel for the "Special" games in the series at least. 2 isn't even listed in M.A.M.E.'s rom directory, so it remains unemulated so far, unless there's an arcade emulator that runs it that I don't know of.