Only Compatible with v5.1 - REQUIRES DATA FOLDER!!!
This mod contains a huge data overhaul to tweak V5 to desired appearance and behaviour, and without such there will be a range of issues from the smallest to the most stupidly obvious.
Issues from using outdated versions of SoRR will be disregarded.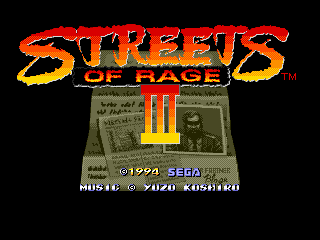 The impossible challenge of converting BKIII and SoR3 into one huge mod for V5... not so impossible when I'm in charge, eh?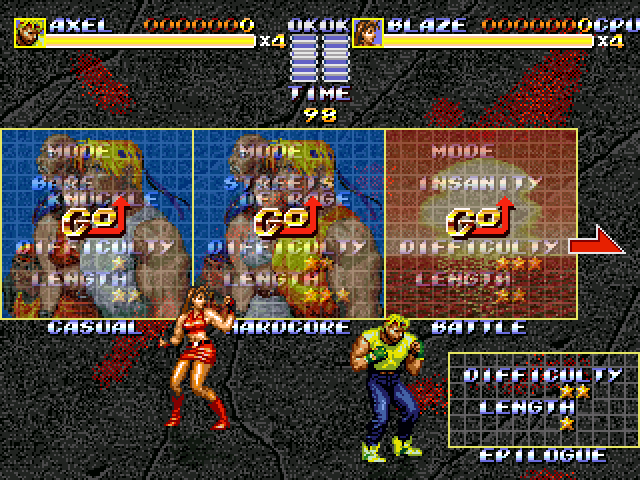 4 modes to choose from, as you would expect from the V5 ports.
The two primary modes are Casual and Hardcore, based on the JP and EU ports respectively.
Having these two options, both fully scaled to the 5 difficulties of V5, means you have a total of 10 distinct difficulty settings to play the core of the mod in!
Battle uses the versus mode scenes and transforms them into an intense survival/horde experience, which concludes in the Hardcore Good End route.
Epilogue is a completely fresh set of five stages, built in SoR1 'one scene per stage' format, set shortly after the Good Ending. I must say, the finale is a Masterpiece.
Download (252MB!!!)
https://www.dropbox.com/s/celvdsasm5uvpcq/SoR3%20Ultimate%20Mod%20for%20V5%20%2825Mar2019%29.rar?dl=0
Contains the necessary data and palette patches.
There is an updated version since March 2019, with quality of life updates to the Hardcore Jet encounters, palette compatibility with the updated SoR1V mod, along with the missing cutscene and enemy from the last stage of the Epilogue.
Character edits are also organised better, containing the additional ones included in SoR1V and SoR2U.
Oh, and there's a cutscenesa.fpg that removes the resting bitch face from Blaze3 in global dialogue (I have no idea why someone edited that in there during V5 development), and converts Ash's portraits to his fabulous palette. Please at least consider using the unbitchfaced Blaze3 in your own modified cutscenesa.fpg, because the alternative is terrible.
DLC
Apparently, there is DLC included in the .rar file.
If only there were a way to view hidden files.
Extracting Resources
If you extract resources from the mod for other projects, remember who took their free time to extend, arrange, layer, and animate them.
Don't be an Allan Cyllakes; don't be a dick
, please give credit.
I would appreciate it a lot, thank you!
Difficulty Shenanigans
Casual
Easy-Very Hard are at least 99% mirrors of BKIII's Easy-Very Hard.
Mania, where enemy space allows, upgrades enemies to the nearest-HP-above SoR3 variant.
Easy and Normal get a Neutral End at Stage 5.
Stage 6 onwards have the placements bumped up (i.e. Easy placement is in Normal; Very Hard is in Mania).
There is an option to change modes in Stage 6, meaning there is a way to access Stage 6+ BKIII Easy.
Hardcore
Easy-Hard are at least 99% mirrors of SoR3's Easy-Hard.
Very Hard uses SoR3's 2P Hard health values.
Mania, where enemy space allows, upgrades enemies to April Fool's health values, and sometimes even switches up the enemy type to an SoR1/SoR2 variant.
Easy will get everybody's "favourite" Bad End at Stage 5.
There is an option to change modes in Stage 6, if you're getting tired of the health bars.
Battle
Difficulty Gating is used to redirect Easy, Normal, and then Hard, to the core mode.
Very Hard and Mania get the full masochistic experience.
2P Mode has no effect on if you're gated or not, but it will add more enemies.
Epilogue
My personal Easy-Mania scaling style, with a considerable boost to difficulty in 2P mode.
Similar to Adam's Story style.
AI Editor Settings
For anyone who has access to the AI Editor, it's strongly recommended you use one of the following setups.
Code:

Balanced *RECOMMENDED*
X Axis Speed: 4
Z Axis Speed: 3
Block Frequency: 4
Damage: 1.25x

Bare Knuckle
X Axis Speed: Remake
Z Axis Speed: Remake
Block Frequency: 5
Damage: 1x

Mania
X Axis Speed: 5
Z Axis Speed: 4
Block Frequency: 6
Damage: 1.5x

Baby Knuckle
X Axis Speed: 2
Z Axis Speed: 2
Block Frequency: 2
Damage: 1x

SoR3 Easy
X Axis Speed: 3
Z Axis Speed: 2
Block Frequency: 3
Damage: 1x

Super Mania
X Axis Speed: 6
Z Axis Speed: 5
Block Frequency: 7
Damage: 1.75x

Chan Mania
X Axis Speed: 6
Z Axis Speed: 6
Block Frequency: 8
Damage: 2x
Conditional
Z Axis Speed: 1 (if Diagonal Run is off)
Damage: 3x (April Fools Mode)
Cheat: Dead Enemy Bodies Never Disappear (SoR3 style)
Constant Settings
Search Food: Yes
Search Weapons: SoR3
Evade: Ignore Harmful Events
Teamwork: Yes
Apply To: Both/SoRMaker
Warning: Settings other than 'Remake' override the AI in all difficulties.
Original Credits
Mod Credits
Near-Single-Handedly Ported and Rebuilt By:
NattyCat (aka CajNatalie)
Most Custom Items & Epilogue Graphical Director Stages 3-5:
Don Vecta
Epilogue Story Consultant:
Laucorn
Special Thanks
Bomberlink
Yuzo Koshiro
Chan
Corkscrew Blow