Arcade (1991):
1-2 players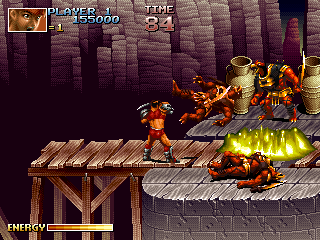 Characters:
Roy(in the above picture) & Arnold
Controls:
Button 1: Attack
Button 2: Jump
2, 1: jump attack
2, Down & 1: downward thrust(sends out energy and damages multiple nearby enemies. If it's timed to land directly on an enemy, you can continuously press 1 to land multiple extra hits)
2, Up & 1: upward thrust
Roy is about the same size as most enemies you'll fight, and is much faster. Arnold(wonder if the name is because of Schwarzenegger/Conan) is massive, but slower, and presumably takes fewer strikes to defeat enemies.
The gimmick here is that each character has a secondary weapon. Time an attack when an enemy attacks your character, and they'll block the enemies attacks with the secondary weapons. This leaves the enemy extremely vulnerable, as you're free to attack them as much as possible, but you need to beware if there are multiple enemies around.
Objects are picked up by walking over them.