Based on a movie of the same name, which actually involved a Game Gear in it's plot...
Game Gear (1993, published by Sega)
1 player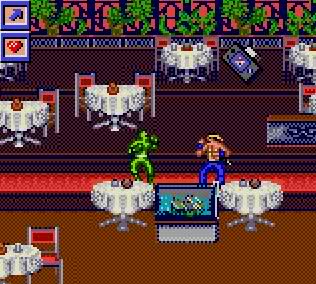 controls:
1 - punch(hold it for a few seconds, or tap it quickly, for a combo)/throw(extremely close)
Up & 1 - kick(hold it for a few seconds, or tap it quickly, for a combo)
2 - jump
Left/Right & 2, 2 - double jump
2, 1 - jump punch
2, Up & 1 - jump kick(alternates between 2 jump kick types)
Down - crouch
Down, 1 - low kick
Down, 2 - use weapon (you start with 15)
Down/Left or Down/Right - roll
Start - menu
Movement feels sluggish, responsive, just slow paced. There seems to be only 1 continue, so about 6 lives to get through the game.  
The start menu includes "Continue" which obviously lets you resume the game; "Use Zatch" which will temporarily replace your character with Zatch, while he does a tornado kick to the nearest enemy(you start with 2 uses); "Adam Hint" which are basic game hints that get recycled multiple times. Despite the number of hints(you start with 3), it may just keep going with the same 2 or 3; "Use Treasure" which goes to it's own screen where you can buy items(includes health, lives, continues, hints, weapons, more Zatch uses, etc.) with the money you have(indicated by the number near the treasure chest on both screens, you start with 30); "Reset" which will actually reset the game; "Toggle Music" which doesn't appear to do anything...; and "Change Weapon" which allows you to choose a different weapon, which I'm not sure has any use aside from aesthetics.