Based on a highly popular manga/anime that's manga has reached it's conclusion.
Game Boy Advance (2004, published by D3publisher in North America, and Tomy in Japan)
more than 1 player(I don't know what the multiplayer limit is for each GBA game that has multiplayer)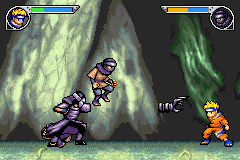 https://www.gamefaqs.com/gba/920937-naruto-ninja-council-2/faqs/57621
Some platformer elements(due to the nature of the story, some stages may be pretty much obstacle courses), as it's a single plane game. Unless it's the emulation, the music in the first actual stage has some really irritating high pitched beep-like rhythms. Any items in the game are picked up by walking into them.