Genesis (1993, published by Vic Tokai in North America, and Sega in Europe & Japan)
1 player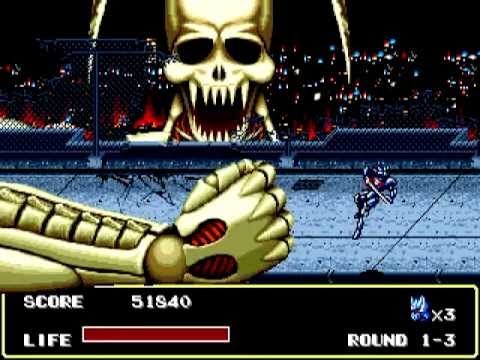 (Boss battle just before the final boss battle of stage 1)
https://www.gamefaqs.com/genesis/586309-mazin-saga-mutant-fighter/faqs/10795
There are chasms to jump over, but luckily you can lure enemies into either jumping into them themselves, or jumping close enough to knock them in. If Mazinger Z(Koji Kabuto inside the armor) is low on health, but can survive, he'll regain it in the transition to the next scene.
As you may have guessed by the guide, the final stage boss battle is a one on one fight, where Mazinger turns giant to be on even ground. These are very tough, and the controls aren't terribly intuitive for 1 on 1 fighting. The enemies have projectile attacks they can unleash at any moment, while Mazinger only has melee attacks. Luckily even if you lose a continue, you'll restart at these fights.
Based on a Manga(Japanese comic book) series.