Apparently not content with the already fairly lengthy name, it has a subtitle "UFO Kamen Yakisoban: Kettler no Kuroi Inbou."
Super Faimcom (1994, published by Den'Z)
1 player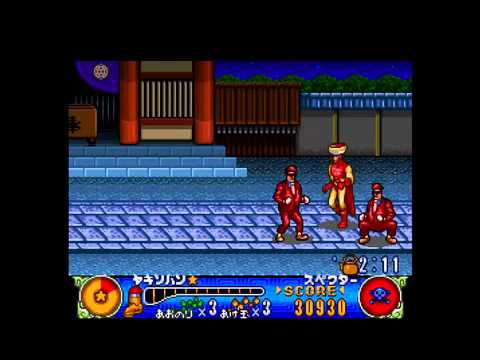 controls:
Y/B - jump
A/X - punch/pick up items
hold A/X until meter fills, then let go - spray (doesn't have to fill all the way, though full charge seems more likely to defeat a weaker enemy)
Y/B, A/X - jump spin kick
double tap Left/Right - roll
roll, A/X - roll jump kick
Well, I found what the 1.54 version of SNES9x broke... (the sound is messed up and it won't start)
Anyway, lifebars are unusual here, as they're represented by circles(your characters by the one on the left with the stars, and enemies by the one on the right with the skull and crossbones). They drain from yellow to red. Among the items you can pick up is a unicycle that makes your character invincible for as long as it lasts, but the only way to fight until then is to run enemies down.
This is apparently based on a live action super hero show in Japan.