Based on a film starring Sylvester Stallone
SNES, Genesis, & Sega CD (1993, published by Sony Imagesoft)
1 player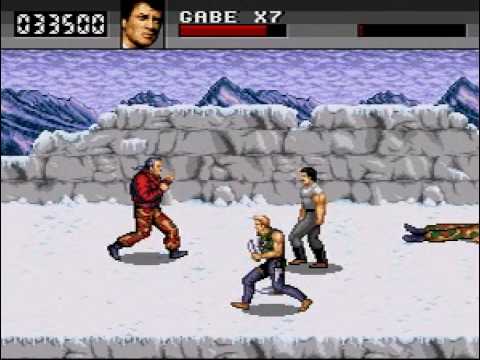 (^SNES version, courtesy of Youtube)
https://www.gamefaqs.com/snes/588259-cliffhanger/faqs/32667
Genesis/Sega CD controls:
A - punch/pick up items
B - kick
C - jump
C, B - jump kick
double tap Left/Right - run
run, A - running forearms strike
B & C - block
B & C & Down - crouch & block
A & B - sweep kick(drains health)/throw items
Given general Genesis controls, A probably also shoots a gun, if one of the 2 button combinations doesn't(can't be bothered to get far enough to pick one up, so I couldn't tell ya).
There are some platforming aspects, as well as things like trying to outrun an avalanche. Campfires will restore health. Some sections see Gabe climbing walls, sometimes with enemies shooting at him.