Knights of Valour/Sangoku Senki (1999)
Knights of Valour Plus/Sangoku Senki Plus (1999)
Knights of Valour Super Heroes/Sangoku Senki Super Heroes (1999)
Knights of Valour Super Heroes Plus/Sangoku Senki Super Heroes Plus (2004)
Knights of Valour: Ti Yong Zhong Yuan/Sangoku Senki: Ti Yong Zhong Yuan  (1999)
Knights of Valour: The Seven Spirits (2003, published by Sammy in North America)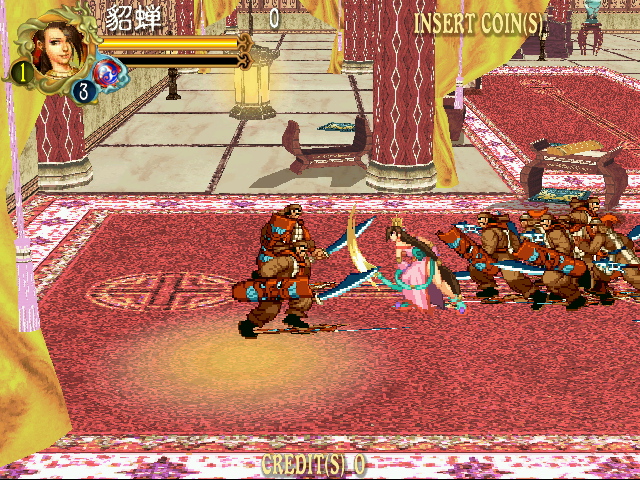 Knights of Valour 2/Sangoku Senki 2 (2000)
Knights of Valour 2 Plus: Nine Dragons/Sangoku Senki 2 (2001)
Knights of Valour 2 New Legend  (2008)
Knights of Valour 3  (2011)
(the images are of the game title just above them)
All are arcade exclusives to my knowledge
1-4 players(well, the Super Heroes games and some bootleg revisions of the first Plus game are 4, most are 2)
https://www.gamefaqs.com/arcade/580999-knights-of-valour/faqs/14205
https://www.gamefaqs.com/arcade/581000-knights-of-valour-2/faqs/15268
So, the guides don't explain what they mean by stuff like 236A. A is what I would have called button 1, the first action button you'll assign in an arcade emulator. The numbers refer to their position on the number pad of your PC's keyboard. 5 is never used, as it represents a joystick in the neutral position. So 236 is basically, Down, Down/Forward, Forward(as your character would be if facing Right). They started using this idea to describe motions for fighting games, so you can appreciate how complex these games can get.
The basic gist of the controls are that you have the usual attack and jump buttons(try various fighting game motions with the attack button), can run, dive attack(regular jump attack should be a given), the 3rd button will bring up a menu for projectile weapons, if you have more than 1(joystick can select the one you want to use, and the same button, or attack, will confirm the selection), and the 4th button will use the projectile(it can also confirm selection, but will fire right away if you use it).
The games are based on the Romance of the Three Kingdoms(marginally fictionalized events of real Chinese history around roughly 169 to 280 A.D.), like Capcoms Tenchi (w)o Kurau, and Koei's Dynasty Warriors. They're also effectively the Street Fighter series of hack 'n slash beat 'em ups. The super Heroes games are still effectively the original game, as is Plus, you can see there are 3 versions of 2, I'm not sure if Ti Yong Zhong Yuan stands on it's own, The Seven Spirits is it's own game, and as best I can tell 3 still only has it's one original version.
Only 3 of the games are fairly playable in M.A.M.E. as it stand right now: Super Heroes, 2, and 2 Plus(some may be playable in other arcade emulators). The story is in a foreign language, possibly Taiwanese, as that's where the developers are from, but I believe they did release these games in Japan. Either way it's hard to tell what's going on, unless you know the language, but shouldn't be too much of an issue, since they're beat 'em ups.