Arcade (1991)
1-3 players(coin slot determines the character)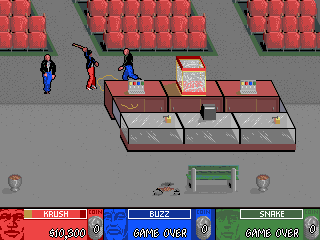 Controls:
button 1 - attack
direction & 1 - kick
button 2 - jump(hold the button to charge a meter to jump higher/farther)
direction & 2 - lunge
2, 1  jump attack(jump kick without a weapon)
walk into a fallen enemy - swing around
1 while swinging - throw
The game is zoomed out, so all the characters are small. You can walk, and quite frankly will need to aim, in 8 directions. Weapons are picked up by walking into them. Your best bet for knocking enemies down with enough health left to throw them is the lunge. Environments are destructible, which means sometimes they can be harmful to you as well(standing too close to the water that shoots out of a destroyed fire hydrant, for example). An interesting touch is that all defeated characters(players included) leave a yellow chalk outline where their body disappears(this is also temporary, but you can see where a defeated enemy landed in the above picture).