Arcade (1992) (Published by Fabtek):
1-2 players: Characters: Alfred(average, pictured below in the blue, black, & white), Chris(quick), and (strong)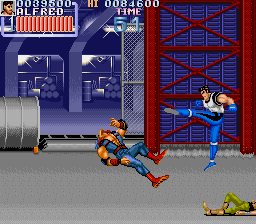 Controls:
button 1 - attack
button 2 - jump
2, 1/Forward & 2/1 - jump kick
1 & 2 - desperation(uses 1 health bar, of 14 total)
Holding Up/Down while attacking will change the strike combo. This alternative combo is usually effective when enemies are approaching from behind. Items are picked up by walking over them.
The game's ending implies that there is a throw, and an alternative special(not sure if it's health draining), but I can't figure either out. The throw is implied as catching an enemy as they land from a jump.