Arcade (1991, published by Jaleco):
1-2 players(As far as I can tell, 1st player decides which character they'll play as, then 2nd has to press start after the game begins. The characters seem no different in terms of strength, speed, etc.)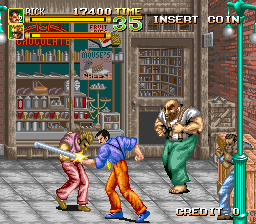 Controls:
button 1 - attack/pick up items & weapons
button 2 - jump
2, 1 - jump attack
1 & 2 - desperation attack
Forward & 1 & 2 - reverse attack
walk into enemy - grab
grab, 1 - strike combo(up to 5, if the enemy has enough health)
grab, Left/Right & 1 - throw
grab, Up & 1 - throw into background
The reverse attack is pretty weird, basically you could press away and strike forward if you wanted to(the move does have some range, though much more so for Allen, than Rick, but either is a good move for luring enemies in, as they tend to approach from behind often enough). The desperation doesn't cost any health if it doesn't connect(and Rick's has a range of movement to it). Tossing enemies into the background is the unique gimmick here, your character will often break the background with the enemies bodies, sometimes uncovering hidden items in the process.
The setting is the late 1930's, which is also unique, for any video game really.