Only Compatible with v5.1
Issues from using outdated versions of SoRR will be disregarded.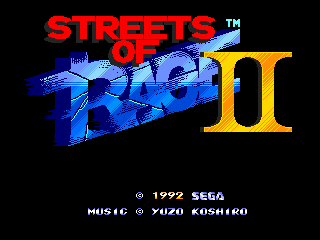 Here it is. Done good this time, now that I'm not still trying to figure things out; I understand everything I need to do to get the desired results from Maker now.
And as with the SoR1 Collection, this is not just some mere port...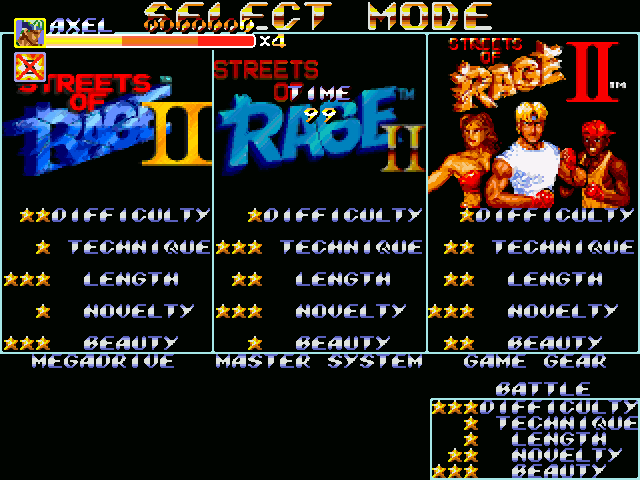 But unlike the SoR1 Collection, since the 8-bit ports were quite frankly trying to be new games with new stages, it's a lot more interesting this time around.
SMS Stages have been updated to have a 16 bit look, Game Gear stages have had their tilesets personally upgraded on a pixel-by-pixel level, and there's that other route: Battle for Survival.
Download (158MB!!!)
https://www.dropbox.com/s/j1mhg6cixkfnxn5/SoR2%20Collection%20for%20V5%20U.rar?dl=0
Contains a complete palette pack for a full experience of the alternate paths (and the missing Ko-Shu palette for the MD Stadium Park). SoR1&3 enemies will cameo (more often as you raise the difficulty) as 8-bit enemies in their palettes to give the routes an extra flavour to make sure each one feels different.
This
also
contains a patch for fuego.fpg (SoRR fire) to convert it into the flammable gas from the Game Gear factory.
Unified Edition Updates
-Palettes have been completely re-organised to allow actual compatibility with the SoR1V and SoR3U mods.
Especially helpful for people who "forget" to swap palette packs, however you will still need to swap Break/Shiva and their palette sets manually.
-Nerfadede from SoR1V has been included in the data folder.
-All character fpg updates I first released since SoR3U have been included.
For those looking for the combination of purism, palettes, and more playable underdogs (notably the Axels, Roo, and Ash).
-Weapons found in stages have been upgraded to maximum health, so if you prefer using 3's weapon system you can get plenty of use out of what you find.
-60Hz renditions of 8-bit themes have been applied to the GG route. If you want to calm it down, I've included the relevant folders for your swapping needs.
Since I don't need to include a 50 and 60 version of the 8-bit SoR2 Factory anymore, there is one more track included in the mod!
-You can recover from falling off the SMS train, instead of losing an entire health bar.
Extracting Resources
If you extract resources from the mod for other projects, remember who took their free time to extend, arrange, layer, and animate them.
Don't be an Allan Cyllakes; don't be a dick
, please give credit.
I would appreciate it a lot, thank you!
Difficulty Scaling Shenanigans
The first time around was more of a test that honestly didn't have fitting results.
I have converted the Very Easy - Mania scale into an Easy - Mania & 2 Players scale much more effectively now, and the choice of what enemies are in 2 Player mode has helped ensure a single player Mania run doesn't feel stupid and unfun in parts (it gets very close and hits that sweet spot instead).
The Master System original had Easy-Hard scaling, so I drew parallels to the MD version for VH/Mania/2P enemies. Baseline enemies are SoR2 variants, while additional enemies wear the SMS palettes on SoR3 skins.
The Game Gear original had no placement scaling whatsoever, so it's a lot more obvious where the parallels are being drawn for extra enemies to fill the huge void. Baseline enemies are still SoR2, while additional enemies wear the vibrant GG palettes on SoR1 skins (shame about no Donovan1 though, lol).
Battle for Survival uses the concept of Difficulty Gates.
Easy: Get outta here!
You're booted out straight away to the rest of the mod.
Normal: 2 stages of fun, and then you're put outside Alien House, where you will be able to choose your destination. You guys have it best as far as player enjoyment is concerned.
Hard: An extra stage of the stupidity, but then you find yourself on the Game Gear ship headed for its factory.
Very Hard: Intended experience all the way to Stage 7, finishing with the Megadrive HQ
Mania: Secret areas unlocked after Stage 7 to make sure the ride never ends. The final survival is in front of X's throne; if you can make it to the end of that you'll be able to enjoy the final bosses.
2 Player: You get one stage; this is designed as a solo challenge, so after it's over you'll be sent to the main game.
If you want to play Battle for Survival, make sure enemies CAN eat food (it's not there for you anyway, I put it there for Donovan to nom on
), and you don't disable the timer. It's balanced so that crazies like myself and Chan can get through without going under our starting life count as long as we play our best, so those settings are considered part of the challenge.
There are of course no other routes or scenes; no Easter Eggs or Insanity Scenes.
Nah.
Original Credits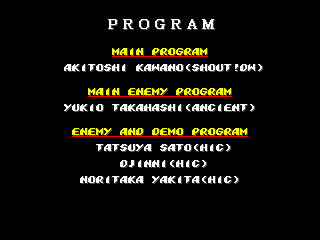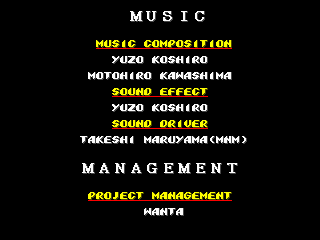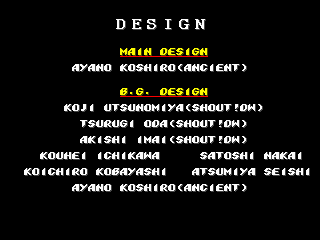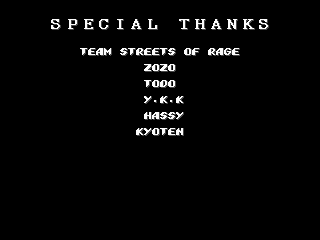 Mod Credits
Near-Single-Handedly Ported and Rebuilt By:
NattyCat (aka CajNatalie)
8-to-16-bit Graphical Update Guidance and *spoilers* in Stage 1:
Don Vecta
You'll know it when you find it. He's the Master of making scenes way too Beautiful.
Special Thanks
Bomberlink
Yuzo Koshiro
Ayano Koshiro
Big Darsh