Note: An expansion/DLC is in the works
It's done, it's complete. The Streets of Rage 1 Collection for V5 is ready to go!
I worked tirelessly to construct everything in native resolution, all layers, all animations, and all music tracks looped, too. The first time I did this it was pretty much my 'training' mod where I learned the basics, and had no idea what I was doing with the graphics. Extending naturally to 240 height is a lot easier now than I ever expected it to be - if anything it's way less complicated than resizing, too (no transparency headaches).
For the old school fans, who love the original in all its glory.
Streets of Rage 2 may hold the most popularity.
Streets of Rage 3 may be the newest and have the most fluid mechanics.
But the first will always hold a special place in our hearts...
Back in our day, even real life didn't have graphics this good.
Pixelated schmixelated - the stages were brilliant.
Back in our day, you had one sound effect for 20 things, and you came to love that sound effect.
Back in our day... Streets of Rage - the Classic - the Original - was the best damn game out there.
This mod hopes to be a tribute to that Classic.
Ah but it's not just a simple port of the MegaDrive version any longer!
Speaking with Laucorn about the direction the mod was taking, I was encouraged to extend the mod to more than just a 'pixel perfect version done good this time' of the old mod. But it's not as simple as just 'GG' and 'SMS' routes would have you think.
Because of lower quality graphics, and smaller resolution, I had to get, hmm... 'creative' with how those routes were done!
The Game Gear route is a 16-bitified construction where I arranged the stages with 16 bit resources so they would look like full size levels from the portable. Even the music has a small but very effective change in how its used.
The SMS route starts off in an 8-bit stage, then transitions into 16-bit with 8-bit colours, then full on 16-bit (ending in a HQ with the SMS palette that may burn some eyes though, lol).
Oh and there's another one; you can thank Vecta for it even being considered.
You can play Bare Knuckle Mobile Stages with
uncorrupted
MIDI arrangements, giving Yuzo Koshiro's work the respect it deserves! No piano of death - the music no longer has to be a bad joke.
Experimental Scene in BKM
Confused?
Solution for Babbies:
Download
https://www.dropbox.com/s/twrcrm6vm2y82mt/SoR1%20Collection%20for%20V5.rar?dl=0
87MB
Includes a full SoR1 Palette Pack, please apply them before playing.
Also, there's a Sound Pack, with 16-bit sounds for SoR2 hits and 8-bit sounds for SoR3 hits, among some other necessary changes/fixes like the Blaze/Judo HEY/HUEY, Bongo1's firebreath, Axel1's death, SoR1 punk cries.
Patch
https://www.dropbox.com/s/uxndac1h7d75yem/SoR1%20Object%20Patch.rar?dl=0
A sprite had non-transparent black where it should have been transparent. Fixed in all object files.
Most people won't notice, but if you want it perfect, get this patch.
Extracting Resources
If you extract resources from the mod for other projects, remember who took their free time to extend, arrange, layer, and animate them.
Don't be an Allan Cyllakes; don't be a dick
, please give credit.
I would appreciate it a lot, thank you!
Difficulty
Of course, what CajNatalie mod would be complete if I didn't take the time to scale it properly?
Megadrive
Easy-Normal:
Enjoyable placement reflecting original Easy-Normal and low health values for a fun casual playthough
Hard:
All enemies present with fair health
Very Hard:
Hardest only added more health and damage, so this mode simply upgrades many enemies to have large health pools. Be warned that wrestlers were cranked to 11 in the original, so they will also have a disproportionate amount of health compared to other bosses here
Mania:
There was nothing above Hardest. Mania will increase health further and give some flavour by switching palettes here and there
2P:
All 2P enemies and extra bosses. Also access to the Bad End*
Game Gear
AKA Chihuahua Route
Easy:
Many enemies with very low health, reflecting GG Easy placement
Normal:
Many more enemies, still with low health, reflecting GG Hard placement
Hard:
Slightly more enemy health, reflecting GG Hard's enemy health boost
Very Hard:
Many many enemies, many of which have high health
Mania:
Extra high health enemies, with MD palettes, pay you a visit
2P:
2P enemies from the MD join in, with GG palettes.
Super Master System
AKA Sleepy Route
Easy:
A very quiet playthrough
Normal:
Quiet playthrough against very few enemies at a time, reflecting SMS Normal
Hard:
A decent number of enemies, reflecting SMS Hard
Very Hard:
High enemy health
Mania:
Various enemies are leveled up to the next palette with more health. Many boss fights are made 'interesting' in case you fell asleep during the main level.
2P:
2P enemies from the MD join in, with SMS palettes.
Bare Knuckle Mobile
AKA Beautiful Route
Easy:
Baseline enemy placement reflecting BKM's fixed enemies
Normal-Very Hard:
BKM used an enemy spawner. How much you raise the difficulty determines how much you draw from each level's spawner
Mania:
Too many enemies from the spawner
2P:
More enemies from the spawner. Also added specific waves to match those found when summoning Adam in the original
Another Route
Wait what, there is no secret 5th route. What are you talking about?!
Move along, nothing to see here.
*Megadrive Bad End
1. Enable friendly damage
2. Set lives to the lowest you are comfortable with
3. Play until Onihime&Yasha at the doors of Mr.X
4. Join 2nd player BEFORE defeating the Twins
5. A new option will open between Yes/No
6. Fight to the Death!
7. No, actually fight to the death.
8. Only one survivor? Good. Now you can have the Bad End
9. Just to make sure, make the loser choose Game Over.
Warning: Only 1 person can sit in The Chair. Attempting to cheat the system will have consequences.

Original Credits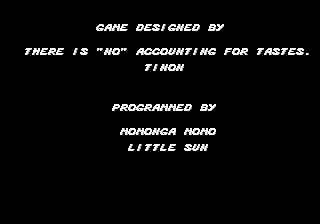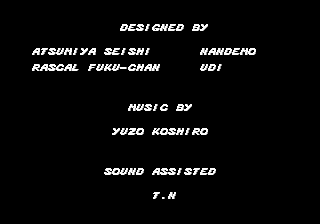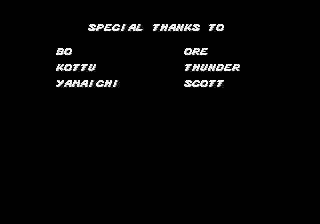 Ported and Made By
NattyCat (aka CajNatalie)
Don Vecta (Selector Concept, BKM Stage 1&3, Graphical Upgrade Ideas)
Mr. Din (BKM Stage 2&6)
Special Thanks To
BomberLink
Yuzo Koshiro
Laucorn